Line 48:
Line 48:
 

==Phonology==

 

==Phonology==

 

===Consonants===

 

===Consonants===

−

{| class="wikitable article-table" style="width: 660px; text-align:center;" cellspacing="1" cellpadding="1" border="1"

+

{| class="article-table" style="width: 660px; text-align:center;" cellspacing="1" cellpadding="1" border="1"

 

! style="width: 68px; " |

 

! style="width: 68px; " |

 

! style="width: 68px; " |Bilabial

 

! style="width: 68px; " |Bilabial

Line 73:
Line 73:
 

|b̪

 

|b̪

 

|

 

|

−

| ʈ ɖ

+

|ʈ ɖ

 

|

 

|

 

|

 

|

Line 121:
Line 121:
 
 
 

===Vowels===

 

===Vowels===

−

{| class="wikitable article-table" style="width: 540px; text-align:center;"

+

{| class="article-table" style="width: 540px; text-align:center;"

 

! style="width: 90px; " |

 

! style="width: 90px; " |

 

! style="width: 90px; " |Front

 

! style="width: 90px; " |Front

Line 275:
Line 275:
 

|}

 

|}

 
 
−

==Grammar ==

+

==Grammar==

 
+

[[Aҵenne_Rẁetrỳqqe/Grammar]]

−
 
−

===Nouns===

 
−
 
−

===Verbs===

 
−
 
−

=== Syntax===

 
−
 
⚫
 
 
 
 
⚫
 
+

[[Aҵenne_Rẁetrỳqqe/Lexicon]]

 
 
 

==Example text==

 

==Example text==
---
Revision as of 21:00, 12 March 2021
NOTE: High Ruetrique is a WORK IN PROGRESS! The language is still in its very early stages, and drastic changes may happen at any time.
Afenne Rẁetrỳqqe

Type
Fusional
Alignment
Nominative-Accusative
Head direction
Initial
Tonal
No
Declensions
No
Conjugations
Yes
Genders
None
Nouns decline according to...
Case
Number
Definiteness
Gender
Verbs conjugate according to...
Voice
Mood
Person
Number
Tense
Aspect
Meta-information
Progress
0%

Statistics
Nouns
0%
Verbs
0%
Adjectives
0%
Syntax
0%
Words
of 1500

Creator
Evie Vapoura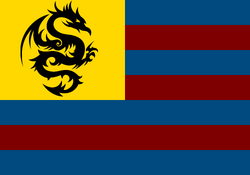 General Information
Aҵenne Rẁetrỳqqe (anglicised Ashenne Ruetrique, translated High Ruetrique), or simply Rẁetrỳqqe[note 1], is the national language of Rẁetrøqỳa[note 2].
Phonology
Consonants
| | Bilabial | Labio-dental | Alveolar | Retroflex | Palatal | Velar | Uvular | Epiglottal |
| --- | --- | --- | --- | --- | --- | --- | --- | --- |
| Nasal | m | | n | | | | | |
| Plosive | p | b̪ | | ʈ ɖ | | | q | ʡ |
| Fricative | β | | s | | ɕ ʑ | | ʁ | |
| Approximant | | ʋ | | | j | | | |
| Trill | | | | | | | ʀ | |
| Lateral app. | | | | | | ʟ | | |
Vowels
| | Front | Near-front | Central | Near-back | Back |
| --- | --- | --- | --- | --- | --- |
| High | i | | | | u |
| Near-high | | ɪ | | | |
| High-mid | e ø | | ɵ | | |
| Mid | | | | | o̞ |
| Low-mid | ɛ | | | | ʌ ɔ |
| Near-low | æ | | | | |
| Low | | | ä | | ɒ |
Writing System
Letter
A
E
Y
O
W
B
D
G
Ƶ
K
L
M
Sound
/ä/
/ɛ/
/j/
/o̞/
/ʋ/
/b̪/
/ɖ/
/ʡ/
/ʑ/
/q/
/ʟ/
/m/
Letter
N
P
Q
R
T
V
Z
Ҵ
Ʃ
Sound
/n/
/p/
/q/
/ʀ/ (start of word)

/ʀ/ (double)

/ʁ/ (elsewhere)

/ʈ/
/β/ (start of word)

/β/ (double)

/ʋ/ (elsewhere)

/s/
/ɕ/
/ɕ/
Letter
À
È
Ỳ
Ò
Ẁ
Ⱥ
Ɇ
Ɏ
Ø
Ꝟ
Sound
/ɒ/
/e/
/i/
/ɔ/
/u/
/æ/
/ɵ/
/ɪ/
/ø/
/ʌ/
Grammar
Lexicon
Aҵenne_Rẁetrỳqqe/Lexicon
Example text
Notes