We're Getting Mutants in the MCU - The Loop
Play Sound
Progress 0%

Stats
Nouns
0%
Verbs
0%
Adjectives
0%
Syntax
0%
Words
of 1500
Kohdese
Gwòhn xở Ḷwáng
Type
Isolating
Alignment
Head direction
Tonal

Yes

Declensions

No

Conjugations

No

Genders

No

Nouns decline according to...
Case
Number
Definiteness
Gender
Verbs conjugate according to...
Voice
Mood
Person
Number
Tense
Aspect
General information
[
]
Native name Gwòhn xở Ḷwáng /kɰ̈on˥ʰ˨ c͡ɕ'ɘː˧˩˧ ˀlˠɑ̌ɴ˨˥/
Phonology
[
]
Consonants
[
]
 Bilabial  
 Alveolar 
Retroflex
 Palatal  
Velar
Glottal
Nasal
Plain
m~b〈m〉
n~d〈n〉
(ŋ)
Glottalic
ˀm~ɓ〈ṃ〉
ˀn~ɗ〈ṇ〉
Plosive
Plain
p〈b〉
t〈d〉
k〈g〉
Ejective
p'〈p〉
t'〈t〉
k'〈k〉
(ʔ)
Fricative
Plain
ɸ〈f〉
s~ɕ〈s〉
ʂ〈sh〉
(h)
Glottalic
ˀs~ˀɕ〈z〉
ˀʂ〈zh〉
Affricate
Plain
t͡s~t͡ɕ〈tz〉
ʈ͡ʂ〈j〉
c͡ɕ〈c,cz〉
Ejective
t͡s'~t͡ɕ'〈ts〉
ʈ͡ʂ'〈ch〉
c͡ɕ'〈x〉
Liquid
Plain
l〈l〉
ɽ~ɖ〈r〉
(j)
(ɰ)
Glottalic
ˀl〈ḷ〉
/j/ and /ɰ/ are parts of the syllable nucleus and are attached to specific finals.
/ŋ/ is only found in the syllable coda.
/ʔ/ and /h/ are found in certain tone contours only.
The alveolo-palatal series /c͡ɕ/ and /c͡ɕ'/ are often [c͡ç] and [c͡ç'], and contrast with [t͡ɕ] and [t͡ɕ'] before high front vowels.
Vowels
[
]
Front
Central
Back
Unrounded
Rounded
Unrounded
Rounded
High
i
ø
ɯ
u
Mid
e
a~ə
ɤ
o
Low
/e/ and /ø/ are often analyzed as a single phoneme.
Each phoneme has several different allophones in different situations.
With several exceptions, the sounds /i/, [ɨ], /e/, [ø], /a/, [ə], /ɤ/, /o/, /ɯ/, and /u/ are generally transcribed i, y, e, ê, a, ă, ơ, o, ư, and u respectively in romanization.
Syllable Rime
[
]
Tones
[
]
Kohdese possesses an eight-tone system, each with additional features as well.
| Tone Name | Description | Tone Contour | Diacritic | Example |
| --- | --- | --- | --- | --- |
| téi "above" | low rising | ˨˥ | ´ | |
| tzưào "simple" | mid falling | ˧˨ | ` | |
| kảo "strange" | mid falling-rising, breathy | ˧˩˧ |  ̉ | |
| xẹ'i "broken" | mid level, glottalized | ˧ˀ˧ |  ̣' | |
| dòḫ "dropped" | high falling, glottalized | ˥ˀ˨ | `' | |
| ṃwớn'g "thrown" | low rising, glottalized | ˨ˀ˦ | ´' | |
| lựhen "within" | mid level, mid-devoiced | ˧ʰ˧ |  ̣h | |
| zèhng "light" | high falling, mid-devoiced | ˥ʰ˨ | `h | |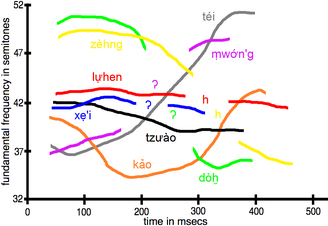 Writing Systems
[
]
Phonotactics
[
]
Grammar
[
]
| | Gender | Cases | Numbers | Tenses | Persons | Moods | Voices | Aspects |
| --- | --- | --- | --- | --- | --- | --- | --- | --- |
| Verb | No | No | No | No | No | No | No | No |
| Nouns | No | No | No | No | No | No | No | No |
| Adjectives | No | No | No | No | No | No | No | No |
| Numbers | No | No | No | No | No | No | No | No |
| Participles | No | No | No | No | No | No | No | No |
| Adverb | No | No | No | No | No | No | No | No |
| Pronouns | No | No | No | No | No | No | No | No |
| Adpositions | No | No | No | No | No | No | No | No |
| Article | No | No | No | No | No | No | No | No |
| Particle | No | No | No | No | No | No | No | No |
Nouns
[
]
Verbs
[
]
Syntax
[
]
Vocabulary
[
]
No.
English
1
I
—
2
you (singular)
—
3
he
—
4
we
—
5
you (plural)
—
6
they
—
7
this
—
8
that
—
9
here
—
10
there
—
11
who
—
12
what
—
13
where
—
14
when
—
15
how
—
16
not
—
17
all
—
18
many
—
19
some
—
20
few
—
21
other
—
22
one
—
23
two
—
24
three
—
25
four
—
26
five
—
27
big
—
28
long
—
29
wide
—
30
thick
—
31
heavy
—
32
small
—
33
short
—
34
narrow
—
35
thin
—
36
woman
—
37
man (adult male)
—
38
man (human being)
—
39
child
—
40
wife
—
41
husband
—
42
mother
—
43
father
—
44
animal
—
45
fish
—
46
bird
—
47
dog
—
48
louse
—
49
snake
—
50
worm
—
51
tree
—
52
forest
—
53
stick
—
54
fruit
—
55
seed
—
56
leaf
—
57
root
—
58
bark
—
59
flower
—
60
grass
—
61
rope
—
62
skin
—
63
meat
—
64
blood
—
65
bone
—
66
fat
—
67
egg
—
68
horn
—
69
tail
—
70
feather
—
71
hair
—
72
head
—
73
ear
—
74
eye
—
75
nose
—
76
mouth
—
77
tooth
—
78
tongue
—
79
fingernail
—
80
foot
—
81
leg
—
82
knee
—
83
hand
—
84
wing
—
85
belly
—
86
guts
—
87
neck
—
88
back
—
89
breast
—
90
heart
—
91
liver
—
92
drink
—
93
eat
—
94
bite
—
95
suck
—
96
spit
—
97
vomit
—
98
blow
—
99
breathe
—
100
laugh
—
101
see
—
102
hear
—
103
know
—
104
think
—
105
smell
—
106
fear
—
107
sleep
—
108
live
—
109
die
—
110
kill
—
111
fight
—
112
hunt
—
113
hit
—
114
cut
—
115
split
—
116
stab
—
117
scratch
—
118
dig
—
119
swim
—
120
fly
—
121
walk
—
122
come
—
123
lie
—
124
sit
—
125
stand
—
126
turn
—
127
fall
—
128
give
—
129
hold
—
130
squeeze
—
131
rub
—
132
wash
—
133
wipe
—
134
pull
—
135
push
—
136
throw
—
137
tie
—
138
sew
—
139
count
—
140
say
—
141
sing
—
142
play
—
143
float
—
144
flow
—
145
freeze
—
146
swell
—
147
sun
—
148
moon
—
149
star
—
150
water
—
151
rain
—
152
river
—
153
lake
—
154
sea
—
155
salt
—
156
stone
—
157
sand
—
158
dust
—
159
earth
—
160
cloud
—
161
fog
—
162
sky
—
163
wind
—
164
snow
—
165
ice
—
166
smoke
—
167
fire
—
168
ash
—
169
burn
—
170
road
—
171
mountain
—
172
red
—
173
green
—
174
yellow
—
175
white
—
176
black
—
177
night
—
178
day
—
179
year
—
180
warm
—
181
cold
—
182
full
—
183
new
—
184
old
—
185
good
—
186
bad
—
187
rotten
—
188
dirty
—
189
straight
—
190
round
—
191
sharp
—
192
dull
—
193
smooth
—
194
wet
—
195
dry
—
196
correct
—
197
near
—
198
far
—
199
right
—
200
left
—
201
at
—
202
in
—
203
with
—
204
and
—
205
if
—
206
because
—
207
name
—
Example text
[
]