Progress 4%

Stats
Nouns
11%
Verbs
8%
Adjectives
0%
Syntax
1%
Words
15 of 1500
Marine
Marinuse Längta
Type
-
Alignment
From left to right
Head direction
-
Tonal

Yes

Declensions

Yes

Conjugations

Yes

Genders
Feminine, Masculine, Neutral
Nouns decline according to...
Case
Number
Definiteness
Gender
Verbs conjugate according to...
Voice
Mood
Person
Number
Tense
Aspect
General information
Edit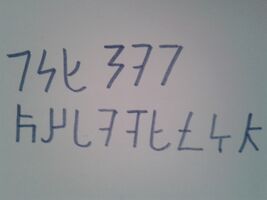 This is a language spoken near the Baltic Sea. It's origins, are related to Estonian and French.
It's grammar is very simple, and similar to English, making it unfitting in any family of the Indo-European languages. It's mostly pronounced as in French with hints of Estonian.
They use the marine alphabet (bottom right corner). Here's the Latin version of it:
A B C D F G H I J K L M N O P Q R S T U V W Y (no lower-cases)
Example text
Edit
We are walking - Asus ont garte
You are very smart - Ace ont träga nuobile
Hello everyone! - Avias koous!
They are stupid - Aufus ont rumalesot
I still haven't finished creating the language - I will try to edit it later!
Community content is available under
CC-BY-SA
unless otherwise noted.