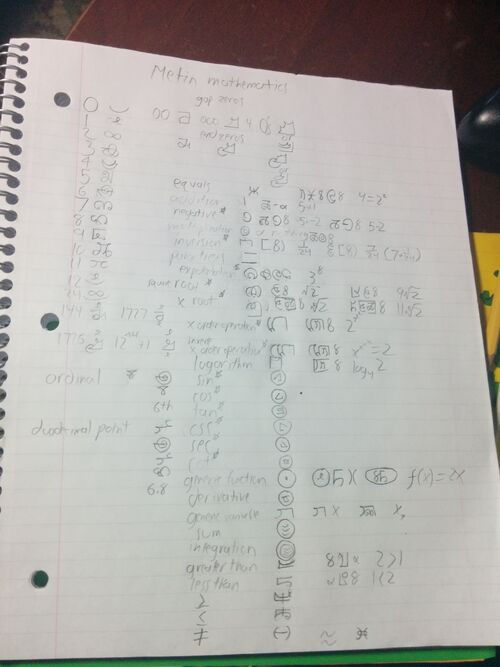 Numerals: cardinal, ordinal, fractional
x
12+x
12*x
144+12*x
144*x
1726*x
(12^4)*x
Cardinal

Ordinal

xth

Fractional

x^-1

Power

y^x

Multiplicative

x*y

Ratio

x per y

Identical multiplet

Heterozygous

multiplet

Cardinal
Ordinal
Fractional
Power
Multiplicative
Ratio
Homozygous multiplet

Heterozygous

multiplet

Cardinal
Ordinal
Fractional
Power
Multiplicative
Ratio
Homozygous multiplet
Heterozygous multiplet
Cardinal
Ordinal
Fractional
Power
Multiplicative
Ratio
Homozygous multiplet
Heterozygous multiplet
Cardinal
Cardinal
Cardinal
0

mai

tuó

maiya
-
hafuu
ǫmai
maikx'ú
-
-

muu

muąs

miin
tséá
moon
muoi
múú
m-muus
m-muug
mai
maitya
-
hafu
ǫmai
maikx'ú
-
-
mueɮ
miiy
muúy
miiyn
mijyii
mijyúú
m-mueł
m-mueg
mai
mai
muiiz
1

fuu

bhoi

fuuya
wáánz
hahien
ǫhien
kx'úú
-
-

hiyuu

hiyuąs

hatl'aa
tsúyuí
hiyan
hiyii
hikx'úú
m-hiyus
m-hiyug

muu

muąs

miin

tséá

miyan
muoi
múú
m-muus
m-muug

muewadas (muewadatsiyuu, muewadatsií)

muewadąąs

muewadazi

(muewadatsatl'aa, 

muewadatsemeł)

miuntsę́
muewadatsan
muewadatse
muewadatsúú
m-muewadatsos
m-muewadatsaag

mueɮ

(muewadas, muehędas)

muiiz
muiduly
2

łí

łíąs

meł
fí
dzoon
maya
mayúú
m-łús
m-łíag

hió

híłąs

hemeł
tsíí
hoodzan
hiłíi
hiłúú
m-hiús
m-híag

idó (idíyuu, idíó)

idúąs

idí

(idémeł, idíth'i)

its'ę́

(its'íí, its'át'aį́)

idóon

(idóodzan, idę́t'an)

iduói
idúú
m-idós
m-idóg

mueyódas

mueyódąąs

mueyódazi
miyóóntsę́
mueyódatsan
mueyódatse
mueyódatsúú
m-mueyódatsos
m-mueyódatsog

úɮ

(úhódas)

tl'úiiz
muidúly
3

t'aa

t'ąąs

t'ain
t'át
t'ayan
t'ee
t'ǫǫ́
m-t'ǫǫs
m-t'aag

hię́

hit'ąs

hith'i
tsát'aį́
hęt'an
hit'ee
hit'ǫǫ́
m-hię́s
m-hit'aag

t'ó

t'úąs

t'í

t'ítsę́

t'óon
t'uói
t'úú
m-t'ós
m-t'óg

mueyędas

mueyędąąs

mueyędazi
miyauntsę́
mueyędatsan
mueyędatse
mueyędatsúú
m-mueyędatsos
m-mueyędatsog
yęɮ
t'ayuiiz
muęly
4

zxįng

zxįngąs

zxuing
zxįkít
zxįkan
zxįnje
zxįnkx'ú
m-zxuix
m-zxąąx

huinzx

huingąs

hįgin
tsį́jxí
hįzxan
huinje
huinkx'ú
m-huix
m-huąąx

ujxó

ujxúąs

ujxí

jxį́tsę́

ujxóon
ujxuói
ujxúú
m-ujxós
m-ujxóg

muejxadas

muejxadąąs

muejxadazi
mijxuntsę́
muejxadatsan
muejxadatse
muejxadatsúú
m-muejxadatsos
m-muejxadatsog
jxueɮ
zxįmuiiz
muizxly
5

kes

ketsąs

keins
ketsít
ketsan
kecxe
kets'ú
m-keos
m-kewax

hiex

hikąs

hixtí
tséxtsí
héxtsan
hiecxe
hiets'ú
m-heos
m-hewax

kitsó

kitsúąs

kitsí

kits'ę́

kitsóon
kitsuói
kitsúú
m-kitsós
m-kitsóg

mueketsas

mueketsąąs

mueketsazi
mikeunts'ę́
mueketsatsan
mueketsatse
mueketsatsúú
m-mueketsatsos
m-mueketsatsog
keeɮ
ketsuiiz
muiíly
6

daa

dąąs

daín
dát
dayan
daje
dǫǫ́
m-dǫǫs
m-daag

hąą

hądąs

hąąri
tsíáíd
hą́dan
hąje
hądǫǫ́
m-hąąs
m-hądaag

dąítsó

dąítsúąs

dąítsí

dąíts'ę́

dąítsóon
dąítsuói
dąítsúú
m-dąítsós
m-dąítsóg

muedąą́das

muedąą́dąąs

muedąą́dazi
midąúnts'ę́
muedąą́datsan
muedąą́datse
muedąą́datsúú
m-muedąą́datsos
m-muedąą́datsog
dąíɮ
dątsúiiz
mįį́zily
7

cǫg

cugąs

cǫng
cǫkít
cǫkan
cǫje
cǫkx'ú
m-cǫx
m-cxowax

hǫg

hugąs

hǫgin
tsúǫ́ú
hǫjgan
huǫje
hǫkx'ú
m-hǫx
m-howax

cagó

cagúąs

cagí
cagtsę́
cagóon
caguói
cagúú
m-cagós
m-cagóg

muecǫngas

muecǫngąąs

muecǫngazi
micaungtsę́
muecǫngatsan
muecǫngatse
muecǫngatsúú
m-muecǫngatsos
m-muecǫngatsog
cuiɮ
cǫgbuiiz
muǫcįly
8

d̨iaó

diúąs

d̨iéún
d̨íǫ́t
d̨iéuan
d̨íjwe
d̨iéú
m-diéus
m-diág

haóz̨

had̨úąs

haíz̨ui
tsíǫ́ú
hadóon
haój̨we
hǫ́ú
m-hǫ́us
m-hadiág

d̨iáyó

d̨iáyúąs

d̨iáyí
d̨ię́tsę́
d̨iáyóon
d̨iáyuói
d̨iáyúú
m-d̨iáyós
m-d̨iáyóg

mued̨iǫ́das

mued̨iǫ́dąąs

muediiǫ́dazi
mid̨iáúntsę́
mued̨iǫ́datsan
mued̨iǫ́datse
mued̨iǫ́datsúú
m-mued̨iǫ́datsos
m-mued̨iǫ́datsog
d̨iweɮ
dǫyúiiz
muj̨ǫ́ly
9

jhun

jhunmąs

jhuún
jhúnhít
jhunman
jhunme
jhuúnx
m-jhuuns
m-jhuang

hiij

hinjhąs

hiiyyn
tsúúynf
huajhan
hinjhe
hinjhúnx
hinjhuns
hinjhang

jhumó

jhumúąs

jhumí
jhuntsę́
jhumóon
jhumuói
jhumúú
m-jhumós
m-jhumóg

muejhunmas

muejhunmąąs

muejhunmazi

mijhumuntsę́/

mijhuntsę́

muejhunmatsan
muejhunmatse
muejhunmatsúú
m-muejhunmatsos
m-muejhunmatsog
jhuuɮ
jhunmuiiz
mujhuly
10

bhen

bhenmąs

bhiín
bhénhít
bhenman
bhenme
bhiúnx
m-bheons
m-bheang

huuw

hunbhąs

huinw
tsíínf
hiabhan
hunbhe
hunbhúnx
hunbhons
hunbhang

bhimó

bhimuąs

bhimí
bhintsę́
bhimóon
bhimuói
bhimúú
m-bhimós
m-bhimóg

muebhinmas

muebhinmąąs

muebhinmazi

mibhimuntsę́/

mibhintsę́

muebhinmatsan
muebhinmatse
muebhinmatsúú
m-muebhinmatsos
m-muebhinmatsog
bheeɮ
bhinmuiiz
mubhely
11

kpán

kpánmąs

kpęén
kpánhít
kpánman
kpánme
kpǫ́ǫ́nx
m-kpǫ́ǫns
m-kpáang

hiánx

hínkpąs

huínx
tsę́ę́nf
háakpan
hínkpe
hínkpǫ́nx
hínkpǫ́ns
hínkpáng

kpátó

kpátúąs

kpátí
kpáts'ę́
kpátóon
kpátuói
kpátúú
m-kpátós
m-kpátóg

muekpátas

muekpátąąs

muekpátazi
mikpáúts'ę́
muekpátatsan
muekpátatse
muekpátatsúú
m-muekpátatsos
m-muekpátatsog
kpáaɮ
kpáfuiiz
mukpály
"Many", xth
wan
wanya
wanmít
wanman
wanme
wankx'ú
m-waans
m-waang
Multiplet numbers
Edit
Negative numbers
Edit
The negative of a number is formed by prefixing qo-. 
Usage of numbers
Edit
All Metin numbers come after the nouns which they modify. The Cardinal numbers are used exclusively to answer questions like "how many". Ordinal numbers are used for most other purposes.
tsimee fuu: one person
j̨ao muu: twelve cities
mįwoon keezxadatsąá:  ​774 lights
Ordinal numbers are used for:
objects in sequence
"ID" type numbers (room numbers, model numbers, social security number, etc...)
tsimee mueyódazi: Citizen number 156
Community content is available under
CC-BY-SA
unless otherwise noted.