Oa is a language created by Edgar Grunewald for his YouTube channel Artifexian. It is based on Korea's Hangul (한글) writing system.
Pronunciations and Writing System
This video here would give a proper explanation of Oa's pronunciations and other aspects.

Artifexian could not pronounce trilled /r/. He has since learned how to.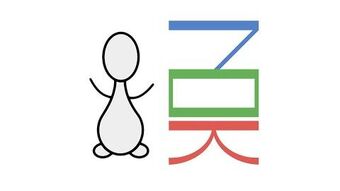 Phonology
Consonants
Labial
Alveolar
Palatal
Velar
Uvular
Glottal
Nasal
m
n
ŋ
Plosive
p
t
k
ʔ
Fricative
voiceless
f
s
x
h
voiced
v
z
Approximant
ʍ
ɹ
j
Lateral
l
Trill
ʙ
(r)
ʀ
Vowels
Front
Central
Back
High
i
Mid
ə
o
Low
a
Diphthongs
ai, ia, oi, io, oa, ao
Phonotactics
Oa's fundamental syllable structure is (C)(C)V(C)(C).
Oa ommits coda ʍ, ʙ, ʀ, h, and j
Oa ommits the glottal stop and ʍ in consonant clusters
Oa clusters usually follow o+s in onset and s+o for coda
Glyphs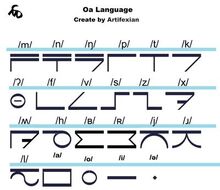 These glyphs are part of a featural system and are based on the several sounds of Oa.
Mood, Tense, and Aspect
Numerical System