Pegakibo is the personal language of Jack Eisenmann. It was made in 2006, then abandoned, then revived in 2010. The language is uninflected, has a very simple phonology, and has over 1900 words.
Phonology
Edit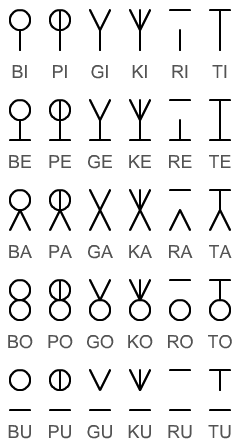 There are 6 consonants and 5 vowels in Pegakibo: P, B, K, G, T, R, and A, E, I, O, U.
|   | Bilabial | Alveolar | Velar |
| --- | --- | --- | --- |
| Plosive | [p b] | [t] | [k ɡ] |
| Approximant |   | [ɹ] |   |
| | Front | Central | Back |
| --- | --- | --- | --- |
| Close | [i] | | [u] |
| Mid | [e] | | [o] |
| Open | | [ä] | |
Words are formed by a series of consonant-vowel pairs; a consonant is always immediately followed by a vowel, and a vowel is always immediately preceded by a consonant. Emphasis always falls on the second to last syllable.
The grammar of Pegakibo is fairly simple. There are three parts of speech: nouns, verbs, and descriptors.
Nouns are things, objects, people, and places.
Verbs are actions or relational operators. They are ALWAYS transitive (can accept a direct object).
Descriptors act as both adjectives and adverbs; they can modify any part of speech. Descriptors are sometimes used as intransitive verbs.
Word order follows the subject-verb-object paradigm: a noun before a verb performs the verb, a noun after a verb receives the verb's action. The subject and direct object are optional in a clause. If the subject is excluded, the clause becomes passive.
A descriptor is placed after the word it describes. Numbers act as descriptors, and thus are placed after what they modify.
Words of the same part of speech may be grouped together and treated as a single unit. Unlike in English, a conjunction is not required to do this; the word "and" is implied. To avoid ambiguity with descriptors modifying descriptors, commas may be placed between grouped words. Predicates may be grouped in a similar fashion, in which case the subject(s) perform the actions of all the verbs.
A clause may be surrounded by quotation marks to form a subordinate clause or a gerund. Such a grouping is functionally treated as a noun, and thus is called a "situation noun". A situation noun refers to the action or process of its clause (unless certain descriptors are added). Quotation marks may also be used to enclose speech said by someone.
The kitten is playing in the rain.
"PIBETI TO RABE BI" TA PIBU TO.
"cat the play present" in rain the.
Once wild animals lived here.
"KETERUTI KU KERE REPO TA PUBA RU" BO BEGORE BU.
"animal plural wild living in place this" at time one.
Can your brother dance well?
"KOKITI GA KIGE" KI KIKO "GAPI PIRA"?
"brother of you" subject can "dance well"?
The little seeds waited patiently under the snow for the warm spring sun.
TIBAGOBA KU GETE TO TOBI RA BITUGIPO ""BIRITI GA "KUTARA GA PAKU" KI" KI TOKEBU TIRA TO.
seed plural little the wait past patiently "light of "sun of spring" subject" subject under snow the.
External Links
Edit
Community content is available under
CC-BY-SA
unless otherwise noted.