We're Getting Mutants in the MCU - The Loop
Play Sound
Progress 40%

Stats
Nouns
63%
Verbs
62%
Adjectives
17%
Syntax
32%
Words
20 of 1500
The Sorcerer's Tongue


Undique
Type
Fusional
Alignment
Tripartite
Head direction
Mixed
Tonal

No

Declensions

Yes

Conjugations

Yes

Genders

Yes

Nouns decline according to...
Case
Number
Definiteness
Gender
Verbs conjugate according to...
Voice
Mood
Person
Number
Tense
Aspect
General information
[
]
 Native pronunciation: /'un.di.kwe/  (OON-dee-kway), from undi 'our' and kwela 'power, knowledge'
Undique is widely known in Mygith as the Sorcerer's Tongue. It is the language of the Ancients who once dwellt in the Mage City (Undiquitus) of Masecraeia on the Eruscan Sea, where word-magic has been studied, developed, and taught since prehistory.
This is the language in which sorcery is conducted, written, and read; it has two written forms, which are sometimes used together. The first is an alphabet, which is used for most purposes, especially for all non-magical purposes; the second form is ideographic, and is used for alchemy, and sometimes in scrolls and enchantments.
Linguistically, Undique is a fusional language roughly resembling Indo-European languages. It has 26 consonants with voicing distinction, including labiovelars and two uvular sounds, and nine vowels plus length distinction. There are six cases - ergative, absolutive, accusitive, genitive, dative, and instrumental, (as well as reflexive particles and anaphora in the pronominal paradigm), and three animacy states. It has five tenses, two aspects, and marks for evidentiality, and optionally for subject volition. It is a pro-drop language.
Phonology
[
]
Consonants
[
]
| | Bilabial | Dental | Alveolar | Palatal | Velar | Labiovelar | Uvular | Glottal |
| --- | --- | --- | --- | --- | --- | --- | --- | --- |
| Nasal | m | | n | | ŋ | | | |
| Plosive | p b | | t d | | k g | kw | q | ʔ |
| Fricative | v f | þ ð | s z | š | x | xw | χ | h |
| Approximant | | | | j | | w | | |
| Trill | | | r | | | | | |
| Lateral app. | | | l | | | | | |
There was a historic /gw/ phoneme, but it has merged with /w/. 
Vowels
[
]
Front long
Front short
Central
Back short
Back long
High
í
i
ə
u
ú
Mid-high
é
e
o
ó
Mid-low
ɛ́
ɛ
ɔ
ɔ́
Low
á
a
ɑ
ɑ́
Alphabet
[
]
 Undique is written in two different native writing systems - the first being alphabetic, and the second ideographic. The alphabet is used in everyday writings - letters, official records, books - and, as a right-to-left cursive script, bears some resemblance to modern Arabic. The ideographic script, on the other hand, is used to preform magic, and is generally arranged in a ring formation.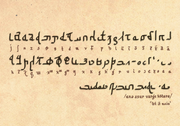 Here it will be written in an IPA-based Romanization, with a few non-IPA exceptions (such as thorn in place of theta, a in place of ash). Also, the forms "c" and "ʒ" will be used to denote postalveolar affricates - [tš] and [dž] respectively - although these are in fact entirely-predictable palatalized allophones of /k/ and /g/.
Phonotactics
[
]
Undique allows relatively complex syllable structure, although complex onsets are often avoided with an epenthetic schwa or barred i. The stress system is trochaic, generally with penultimate primary stress, but feet will align to the beginning of a heavy syllable.
There are three noun classes, divided by thematic vowels, which are referred to as grammatical genders; the feminine i-class (front vowels) /i, e, ɛ/, neuter a-class (low vowels) /a, ə, ɑ/, and masculine u-class (back vowels) /ɔ, o, u/. These classes are used in case derivation, and are assigned by the last vowel in the word in the ergative case, or the last long vowel if there are any; so while vosi, 'fish,' is feminine, lósi, 'tortoise,' is masculine.
Some synchronic rules of the language are:
x, k, g → ʃ, t͡ʃ, d͡ʒ /_i, e, j, r

"velars palatalize before i, e, j, r" 
/varg-je/ → [vard͡ʒe] 'it will...'

x, k, g → ʃ, ʒ /i, e, j, r _ #

"velars palatalize (differently) word-finally after i, e, j, r"
/þalɛc/ → [θælɛʃ] 'knee'

short V → ∅ /between two feet

"short vowels delete between two feet"
/cé.lu.wes-i/ → [t͡ʃeːl.wesi] 'he is born'

short V → h / V:[+Obs -Voi]_#

"short vowels debuccalizes word-finally following a long vowel and a voiceless obstruent"
​/lópə/ → [loːpʰ] 'tomorrow'
Grammar Overview
[
]
| | Gender | Cases | Numbers | Tenses | Persons | Moods | Voices | Aspects |
| --- | --- | --- | --- | --- | --- | --- | --- | --- |
| Verb | No | No | Yes | Yes | Yes | Yes | Yes | No |
| Nouns | Yes | Yes | Yes | No | No | No | No | No |
| Adjectives | Yes | No | Yes | No | No | No | No | No |
| Numbers | Yes | Yes | No | No | No | No | No | No |
| Participles | No | No | No | Yes | Yes | Yes | Yes | No |
| Adverb | No | No | No | Yes | No | No | No | No |
| Pronouns | Yes | Yes | Yes | No | No | No | No | No |
| Adpositions | Yes | Yes | Yes | No | No | No | No | No |
| Article | Yes | Yes | Yes | No | No | No | No | No |
| Particle | No | No | No | No | No | No | No | No |

As a cased language, Undique has relatively free word order, but in subordinate clauses the main constituents appear as VSO. Modifiers preceed their complement.
Undique has six cases: ergative, absolutive, accusitive, genitive, dative, and instrumental. The ergative is the subject of transitive verbs (a verb with both subject and object), whereas the absolutive is the subject of intransitive verbs (where there is no object). The accusative is the direct object, the dative the indirect; genitive is a possessor, and an instrumental is a tool used in the completion of an action.
The case system is generally simplified to a system of two (active/ passive) or three (ergative, absolutive/accusative, oblique) cases on words other than pronouns or nouns (e.g. on verbal agreement and numbers).
There are also three genders (more accurately states of animacy). These are šarna or animate (people and animals), módɛm or moderate (fluids, plants, and magic), and qekwɛm or inanimate.
Pronouns
[
]
Erg.
Abs.
Acc.
Gen.
Rfx.
Dat.
Instr.
1
sg
ɑnə
ɑ́n
ɑnəm
ɑləm
ɑnút
ɑliš
ɑntɛ 
pl
ún
no
nónɛm 
undi
undún
wéš
wɛtɛ 
2
sg
ɔtə
ɔ́s
ɔtɛm
ɔsəm
ɔsút
séš
sɛnt
pl
ɑkə
ɑ́ŋk
ɑcim
indi
indín
ɑciš
kɛnt
3

an

sg
í
in
ime
im
ít
ijiš
intɛ
pl
ɛðə
ɛ́ð
ɛðɛm
ɛði
ɛðín
ɛ́k
ɛðɛ
3

mod

sg
ijé
ijín
ijɛm
ijəm
ijɛ́t
jiš
intɛ
pl
ewɔ
éw
ewɛm
jundi
jún
juk
juntɛ
3

in

sg
isə
is
isɛm
im
isít
isok
iþɛ
pl
exwɔ
éxw
exwɛm
xweli
xunún
exwok
xweþɛ
Nouns
[
]
Nouns are declined by number, case, gender, and animacy. There is much synchronism across the animacy paradigm, particularly between animate and moderate classes, but a few distinct forms remain.
Feminine noun declension
Animacy
#
Erg
Abs
Acc
Gen
Dat
Instr
Animate
sg
∅
-in
-ɛr
-əm
-k
-ɛnt
pl
-ɛh
-ine
-ɛre
-ɛndi
-éc
-þi
Moderate
sg
∅
-in
-ɛm
-əm
-k
-ɛnt
pl
-ɛh
-ew
-ɛme
-ɛndi
-éc
-þɛ
Inanimate
sg
-s
-in
-ɛq
-xəm
-k
-ɛnt
pl
-exw
-ine
-ɛqe
-ɛndi
-xéc
-þɛ
It is worth noting that although the underlying phoneme in the singular dative forms is -k, this is realized in the majority of feminine words as -c [š] due to palatalization.
Masculine noun declension
Animacy
#
Erg
Abs
Acc
Gen
Dat
Instr
Animate
sg
∅
-un
-ot
-əm
-k
-ɔnt
pl
-ɔh
-uno
-oto
-ɔndi
-ók
-þu
Moderate
sg
∅
-un
-om
-əm
-k
-ɔnt
pl
-ewɔh
-ew
-omo
-ɔndi
-ók
-þu
Inanimate
sg
-t
-un
-oq
-xəm
-k
-ɔnt
pl
-ɔxw
-no
-oqo
-ɔndi
-xók
-þo
Neuter noun declension
Animacy
#
Erg
Abs
Acc
Gen
Dat
Instr
Animate
sg
∅
-ən
-ɑr
-əm
-k
-ɑnt
pl
-ɑh
-əna
-ara
-ɑndi
-ák
-þə
Moderate
sg
∅
-ən
-ɑm
-əm
-k
-ɑnt
pl
-ɑh
-əna
-ama
-ɑndi
-ák
-þə
Inanimate
sg
∅
-ən
-ɑq
-xəm
-k
-ɑnt
pl
-ɑh
-əna
-aqa
-ɑndi
-xák
-þa
Verbs
[
]
In progress
Modifiers
[
]
Adjectives and adverbs immediately follow their head. Adjectives and adverbs are little differentiated within the language besides in position, with the exception that adjectives agree with the gender of their noun - cast with a thematic vowel e, a, or o depending on whether their noun is feminine, neuter, or masculine. Some adverbs are further marked with -m.
Quantitatives ('some'), comparatives (bigger) and superlatives (biggest) behave similarly to numbers and determiners in English, and preceed their heads.
Locative particles, also known as directionals, are similar to English prepositions or verb particles - get up, fall down - and are suffixes on the verb.
Temporals are a specific set of adverb-like forms that have to deal with time, such as 'yesterday,' 'soon,' or 'again.' These are always phrase-initial.
Syntax
[
]
In general, due to its robust morphology, Undique has a very free word order. VSO is most common, however.
The verbal complex is generally ordered as well, although arguments can it in any order around (or even within) it, in the order illocutionary particle, modals, tense, aspect, verb root. However, due to affix lowering which indicates tense and aspect agreement on aspects and verbs, even these items can sometimes be found in alternative orders.
Adjectives and adverbs are always adjacent to their nouns/verbs, although temporal adverbs appear phrase-initially. This is also true of the question particle hazɛ́ŋ, 'when', the only "wh-word" with "wh-movement" - all others appear in-situ.
Subordinate clauses, where VSO always occurs, are denoted by the use of special subordinate moods called repurcursive moods; if he'd done Y, then X, or he won't do Y, so X won't happen either. 
Vocabulary
[
]
No.
English
undique
1
I
ɑ́n
2
you (singular)
ɔ́s
3
he
in
4
we
no
5
you (plural)
ɑ́ŋk
6
they
ɛ́ð
7
this
—
8
that
—
9
here
—
10
there
—
11
who
—
12
what
—
13
where
—
14
when
—
15
how
—
16
not
—
17
all
—
18
many
—
19
some
—
20
few
—
21
other
—
22
one
oni
23
two
doχ
24
three
tej
25
four
kwɛr
26
five
pɛŋ
27
big
—
28
long
—
29
wide
—
30
thick
—
31
heavy
—
32
small
—
33
short
—
34
narrow
—
35
thin
—
36
woman
fɑ́tuwe
37
man (adult male)
afɑ́
38
man (human being)
—
39
child
ɛntiŋ
40
wife
ɑkwɛn
41
husband
þejun
42
mother
anrə
43
father
wen
44
animal
naþro
45
fish
vosi
46
bird
ahe
47
dog
teŋgə
48
louse
—
49
snake
vatqa
50
worm
þaðe
51
tree
kɔri
52
forest
drɛg
53
stick
tokle
54
fruit
tanþín
55
seed
imolə
56
leaf
feriən
57
root
—
58
bark
—
59
flower
—
60
grass
—
61
rope
—
62
skin
—
63
meat
—
64
blood
—
65
bone
—
66
fat
—
67
egg
—
68
horn
—
69
tail
—
70
feather
—
71
hair
—
72
head
—
73
ear
—
74
eye
—
75
nose
—
76
mouth
—
77
tooth
—
78
tongue
—
79
fingernail
—
80
foot
—
81
leg
—
82
knee
—
83
hand
—
84
wing
—
85
belly
—
86
guts
—
87
neck
—
88
back
—
89
breast
—
90
heart
—
91
liver
—
92
drink
—
93
eat
—
94
bite
—
95
suck
—
96
spit
—
97
vomit
—
98
blow
—
99
breathe
—
100
laugh
—
101
see
—
102
hear
—
103
know
—
104
think
—
105
smell
—
106
fear
—
107
sleep
—
108
live
—
109
die
—
110
kill
—
111
fight
—
112
hunt
—
113
hit
—
114
cut
—
115
split
—
116
stab
—
117
scratch
—
118
dig
—
119
swim
—
120
fly
—
121
walk
—
122
come
—
123
lie
—
124
sit
—
125
stand
—
126
turn
—
127
fall
—
128
give
—
129
hold
—
130
squeeze
—
131
rub
—
132
wash
—
133
wipe
—
134
pull
—
135
push
—
136
throw
—
137
tie
—
138
sew
—
139
count
—
140
say
—
141
sing
—
142
play
—
143
float
—
144
flow
—
145
freeze
—
146
swell
—
147
sun
—
148
moon
—
149
star
—
150
water
—
151
rain
—
152
river
—
153
lake
—
154
sea
—
155
salt
—
156
stone
—
157
sand
—
158
dust
—
159
earth
—
160
cloud
—
161
fog
—
162
sky
—
163
wind
—
164
snow
—
165
ice
—
166
smoke
—
167
fire
—
168
ash
—
169
burn
—
170
road
—
171
mountain
—
172
red
—
173
green
—
174
yellow
—
175
white
—
176
black
—
177
night
—
178
day
—
179
year
—
180
warm
—
181
cold
—
182
full
—
183
new
—
184
old
—
185
good
—
186
bad
—
187
rotten
—
188
dirty
—
189
straight
—
190
round
—
191
sharp
—
192
dull
—
193
smooth
—
194
wet
—
195
dry
—
196
correct
—
197
near
—
198
far
—
199
right
—
200
left
—
201
at
—
202
in
—
203
with
—
204
and
—
205
if
—
206
because
—
207
name
—
Numbers by case and gender
gen
animate
moderate
inanimate
case
erg
abs
obl
erg
abs
obl
erg
abs
obl
0
šer
šerɛ
šeri
jašer
šerje
šerəš
šerət
šeriak
šerəsm
1
oni
onjɛ
oní
jani
onje
janjəš
onjət
oniak
onjəsm
2
doχ
doχɛ
doχi
jadoχ
doχew
jadoχəp
doχət
doχiak
doχekw
3
tej
tejɛ
4
kwɛr
kwɛrɛ
5
pɛŋ
pɛNGɛ
6
xwéš
xwékɛ
xwéci
jaxwéš
xwéšew
jax
7
séf
séfɛ
8
ɔšiþ
ɔšiþɛ
9
nun
nunɛ
10
dɑm
dɑmɛ
11
ondə
12
dódə
13
tézə
14
kúdə
15
pendə
16
xukdə
17
sédə
18
ɔ́xə
19
núdə
20
wicem
30
tejom
40
kukom
50
pɛm
60
xwékom
70
séfom
80
ɔ́xəm
90
nukom
100
ɑcim
200
docim
1000
qerɑm
Example text
[
]